2022 906 Festival Information and Applications
906 Festival Raffle

THE 5TH ANNUAL 906 FESTIVAL RAFFLE IS UNDER WAY!
☆TICKETS- $10☆
1ST PRIZE- $1,200 Grocery Shopping Spree
($600 Rahilly's IGA~$600 Mac's Market)

2ND PRIZE- 906 Themed Gift Basket ($500 value)

3RD PRIZE- 3' Bear Chainsaw Carving ($175 value)

~Tickets available NOW at the ECA office, Chamberlin's Ole Forest Inn, and State Savings Bank of Curtis!

~Drawing will he held Saturday, August 6th at 6:00 PM during the 906 Festival. Need not be present to win.

~If you would like tickets mailed to you, please call the ECA office 906.586.9974.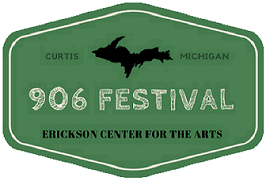 Saturday, August 6 2022 11:00 AM-7:00 PM
The"906 Festival" offers Curtis, surrounding communities, and visitors to our area a fun, family-friendly event that celebrates OUR HOME, the Upper Peninsula.

Our festival includes live music, art and retail vendors, beer and wine tent, entertainment in the Park all day, fun games and activities for the whole family, non-profit organization booths, demonstrations, and more.
Celebrate the "906" at the ECA!
Vendor applications available NOW!

*Vendor spaces are assigned by the ECA on a first come, first serve basis.
Call the ECA office for more information. Festival schedule to be announced.