Event Calendar
"From Bolivia with Love" featuring Sergio Ruiz and Javier Pinell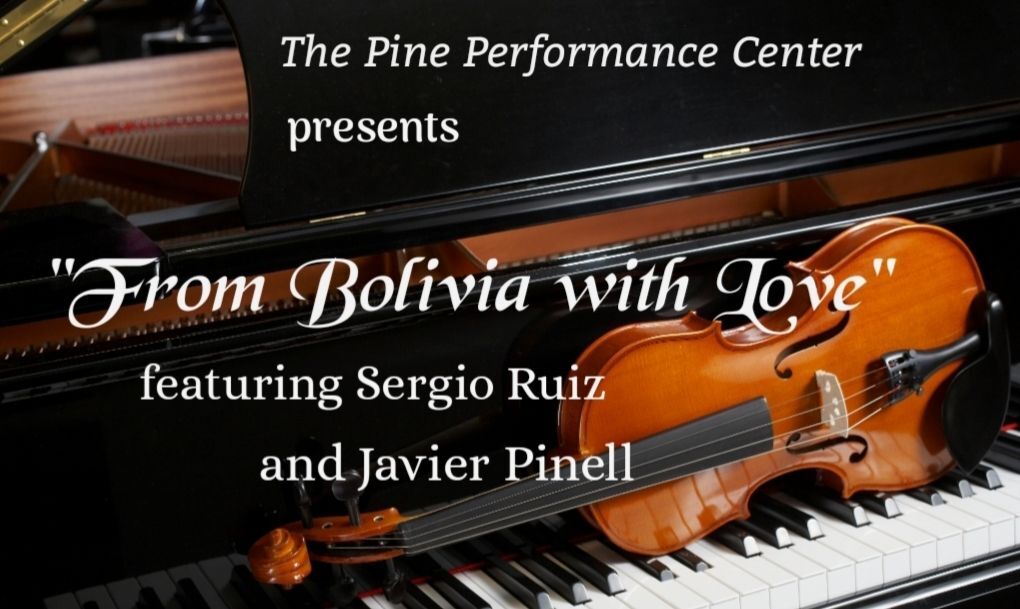 The Pine Performance Center presents
"From Bolivia with Love"
Featuring Sergio Ruiz and Javier Pinell
Saturday, June 17
7:00 PM Doors@6:30 PM
Tickets: $30 MyNorthTickets.com l Door $35
All ticket sales final, no refunds or exchanges.
Join Javier and Sergio as they perform a program of music by Bolivian composers comprised of unique pieces for violin and piano in a style that combines Andean folk elements with the European tradition of Art Music. The beautiful melodies and dance rhythms will take us on a musical journey covering the high plateaus of the Andean mountains, the great valleys, and the exotic rainforests of the Amazon.
~~~~~~~~~~~~~~~~~~~~~~~~~~~~~~~~~~~~~~~~~~~~~~~~~~~~~~~~~
Javier Pinell is Professor of Violin and chairperson of string studies at Sam Houston State University. With a broad teaching experience, he also served on the violin faculty at the Interlochen Center for the Arts in Michigan for eleven summers.
As a two-time recipient of the prestigious Theodor Presser Award (1989 and 1997), Dr. Pinell has done pioneering research on compositions for the violin by contemporary Bolivian composers. The release of the groundbreaking recording  Bolivia: The Unknown Sounds in 1998, which includes much of this newly discovered repertoire, was recognized by the Ministry of Education of the Bolivian Government. A second recording of works by Bolivian composer Gustavo Navarre was released in 2015. This work is titled  The Rescue: The Surviving Musical works of Gustavo Navarre. Pinell's research on Navarre's compositions was also presented at The International Music Council for the Three Americas in Puerto Rico (2016).
~~~~~~~~~~~~~~~~~~~~~~~~~~~~~
Dr. Sergio H. Ruiz is a Professor of Music in piano at the University of Nebraska-Lincoln. He holds degrees from Santa Clara University (BA), Cleveland Institute of Music (MM), and Rice University (DMA). He has previously served at Georgia College & State University, Sam Houston State University, and Sul Ross State University. An International Steinway artist, Ruiz has delighted audiences throughout the world. His performances on Spanish-speaking radio broadcasts have aired throughout South and Central America.
Most recently, he performed concerts in México, Belgium, Germany, Colombia, Czech Republic, Bolivia, and Ecuador, and he has appeared live on KUHF 88.7, The Front Row and on WGTE FM: Live from FM 91.
In demand as an adjudicator, lecturer, and master teacher, Dr. Ruiz balances his performance calendar with being a dedicated teacher. He has judged several piano competitions and festivals in the U.S. and South America. In 2009, he won the Texas Music Teachers Association Collegiate Teacher of the Year. In 2011, he won the Faculty Excellence in Service Award. He also served as Artistic Director of a Youth Music program in León, México and is summer faculty at Interlochen Arts Camp since 2008. Dr. Ruiz was the Creator and Artistic Director of a Latin American Arts and Humanities Festival—Festival (de) Inspiración.