Event Calendar
THE PRESIDENTS: In Their Own Words Gallery Exhibit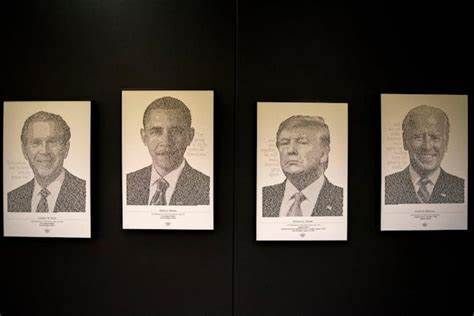 In late 2017, after winning the Public Vote Grand Prize in ARTPRIZE, Richard Schlatter embarked on a new project—a journey that would take almost four years to complete: "THE PRESIDENTS: In Their Own Words." This exhibit includes portraits of 15 U.S. Presidents, created by using the words from their inaugural addresses.
This exhibit is free and open to the public during business hours through July 14th.
Join Richard Schlatter for a presentation on the top 15 presidents as he uses their own words to capture the intricate nature of each presidency.
This presentation combines humor and little known facts about each of the presidents. "The men who have served as president were ordinary people like you and me," Schlatter points out in his presentation. "For the most part, they were ordinary people who lead unordinary lives."
July 6th 7 PM @ The Pine Performance Center Tickets: $15 MyNorthTickets.com
Richard Schlatter is a graphic designer/consultant from Battle Creek, Michigan. After working as an art director for a Chicago design firm, he migrated to west Michigan where he worked as a Creative Director for an Advertising Agency and eventually founded The Schlatter Group, a full-service graphic design firm. Richard Schlatter, winner of ArtPrize 2017, brought home his winning piece, "A. Lincoln," to Battle Creek, where it will stay, just a couple of weeks after ArtPrize 2017. Schlatter created a portrait of President Abraham Lincoln made entirely out of pennies, dated anywhere from 1909 through 2017. Lincoln's shirt was even made out of 1,681 steel pennies that had been produced during World War II. This piece consists of approximately 24,500 pennies, is 12 feet tall, 8 feet wide, weighs 400 pounds and took 465 hours to complete.