Event Calendar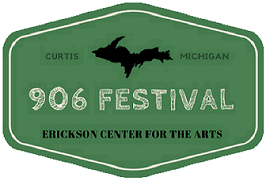 The"906 Festival" offers Curtis, surrounding communities, and visitors to our area a fun, family-friendly event that celebrates OUR HOME, the Upper Peninsula. Our festival includes live music, over 30 art and retail vendors, beer and wine tent, entertainment in the Park all day, fun games and activities for the whole family, non-profit organization booths, demonstrations, and more. Celebrate the "906" at the ECA!
Vendor applications are available NOW at https://www.ericksoncenter.org/events/art.html
*Vendor spaces are assigned by the ECA on a first come, first serve basis.
Call the ECA office for more information.
906 FESTIVAL 2020 SCHEDULE
SATURDAY, AUGUST 1ST
8:00 AM-vendor arrival/set-up
11:00 AM-Festival Opens (Free admission)
11:00 AM-5:00 PM- Artist/Retail/Non-profit vendors
11:00 AM- 7:00 PM Food vendors
11:00 AM-7:00 PM-Beer and Wine tent (valid I.D. to enter)
11:00 AM-5:00 PM- Kids Activities (Up North Kids Craft Tent, "Sand in my Pants!" Treasure Hunt, Minnow Races)
11:30 AM-1:30 PM- The Troy Graham Band
2:00 PM-2:30 PM-Best Dressed Yooper Contest (contestants to band shell by 1:45 PM)
2:45 PM-3:00 PM-ECA Puppet Parade
3:10 PM- 906 Photography Contest Winners announced
3:15 PM-4:00 PM-The Copper Celts
4:30 PM-7:00 PM- The Mark Lavengood Band
6:00 PM- 906 Festival Raffle Winners announced
7:00 PM- Festival Ends
Covid 19 Information -Please note:
There have been several changes made to help make this year's 906 Festival a safer place, for both vendors and patrons. In addition to these changes, IT IS IMPERATIVE THAT ANY VENDOR OR PATRON WHO IS EXPERIENCING SYMPTOMS, OR HAS BEEN EXPOSED TO THE VIRUS NOT ATTEND THE FESTIVAL.
The changes are as follows:
• EVERY vendor will provide a table with hand sanitizer at their booth. These tables will be placed in a way that separates customers from the vendor during transactions.
• The 906 Festival layout has been modified to allow more space between booths. This also gives patrons more room to spread out while shopping.
• There will be hand washing/sanitation stations throughout the Park.
• Face covering is suggested while inside the ECA building. Anyone inside is asked to respect social distancing protocol.