Event Calendar
Horsens Music School of Denmark Big Band Concert @ Chamberlin's Ole Forest Inn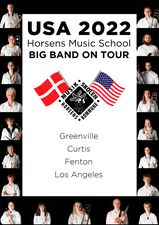 Erickson Center for the Arts/ The Pine Performance Center welcomes
"The Horsens Music School Big Jazz Band of Denmark"
Part of the Blue Lake International Exchange Program
Sunday, July 10 7:00 PM
The Pine Performance Center
Enjoy a very special big band jazz concert presented by our returning guests from far-away Denmark!
Free, donations are always appreciated.
Enjoy a second performance at Chamberlin's Ole Forest Inn with the group Monday, July 11th at 7:00 PM. A complementary dessert bar will be served.